FREEDIVE DAHAB
Welcome to the Mecca Of Freediving
WELCOME TO FREEDIVE DAHAB & THE BLUE HOLE
THE MECCA OF FREEDIVING!
Freedive Dahab is one of the very first Freediving Centres in the world started in 2003 by former freediving world record holder Lotta Ericson. In 2010 Freedive Dahab became the first SSI Freediving Instructor Training Center in the world and certified thousands of all level freedivers and hundreds of instructors.
Our freediving center is located close to the Lighthouse Bay, which is the heart of Dahab. Most of our courses take place here. We have a big and comfortable AC classroom, a spacious equipment room and a big outside terrace, so we have plenty of room for big groups. We have outside showers for the summer and 2 hot showers inside for the winter, and Free wi-fi for our guests.
We organize several events and packages throughout the year, such as Freediving Training weeks, Combo weeks. Our most popular packages for long stays are the Beginner to Instructor package, through which we have certified hundreds of competent instructors over the last few years, and the Freediving Master, for who wants to dedicate 2 – 4 weeks or longer to freediving training.
We also arrange events on request, like specialized private training, sled training (No-Limits and Variable Weight), national competitions, record attempts, instructor courses.
Dahab is a small town situated on the southeast coast of the Sinai Peninsula in Egypt.
Formerly a Bedouin fishing village, located approximately 80 km northeast of Sharm el-Sheikh, Dahab is considered to be one of the Sinai's most treasured diving destinations. It is a place that many have fallen in love with over the years, and return to time & time again. The arrival of international hotel chains has since made the town a popular destination with tourists. Dahab is world-renowned for its windsurfing SCUBA diving, free-diving and snorkelling. Land based activities include camel, horse, jeep and quad bike trips. Mount Sinai is a two hours drive, with Saint Catherine's Monastery being a popular tourist destination.
The nearby Blue Hole is a submarine sinkhole (a kind of cave), around 130 m deep. There is a shallow opening around 6 m deep, known as 'the saddle', opening out to the sea, and a 26 m long tunnel, known as the arch, the top of which lies at a depth of 56 m. The hole itself and the surrounding area has an abundance of coral and reef fish. The Blue Hole is perfect for deep freediving because the reef around it protects it completely from waves and currents. The surface is always almost flat, and we don't have to swim more than 30 meters from the nearby restaurant in order to find up to 90 meters of depth.
Dahab is served by Sharm el-Sheikh International Airport.
Freedive Dahab Center and Shop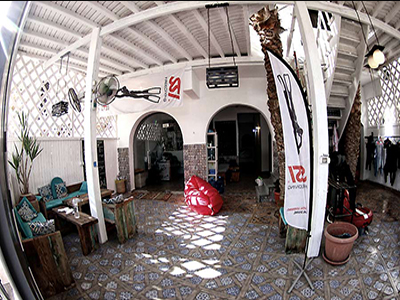 Our freediving school is located in El Fanar Street (N 28 30.012, E 034 31.104) at a  short walking distance from the Light House bay in the heart of Dahab. Most of our freediving courses are held at Light House and we have nice hot showers and AC classrooms. On our big front porch (with a nice sitting area for coffee breaks) there are rinsing facilities, outdoors showers and a hanging area for equipment. Our Freediving Shop is connected to the teaching facilities; there you can buy all the necessary freediving equipment such as high quality freediving wetsuits (from Polosub and other brands), freediving fins, monofins, footpockets, noseclips, lanyards, low volume masks of different kinds.
Freedive Dahab Accommodation
FDD HOTEL: For short or long stays we have 4 big rooms right above our freediving school. All rooms have private bathrooms and are equipped with AC, fridge and wifi. The rooms have a big common terrace great for socialising, stretching, and eating during breaks from training. We have created a shared kitchen for the rooms so that our guests will be able to cook their own food if they wish to do so:)
-Big room with double bed
-Big room with 1 double bed and 1 single bed
-Small room with 2 single beds
-Small room with 3 single beds
Prices 1/12 to 31/03
Smaller Rooms:
SINGLE OCCUPANCY 28 euro/day, 190 euro/week, 300 euro/2 weeks, 380 euro/3 weeks, (1 month 455 euro – only available on request)
DOUBLE OCCUPANCY 35 euro/day, 225 euro/week, 375 euro/2 weeks, 475 euro/3 weeks, (1 month 570 euro – only available on request)
Bigger Rooms:
SINGLE OCCUPANCY 33 euro/day, 230 euro/week, 365 euro/2 weeks, 465 euro/3 weeks (not available for longer periods)
DOUBLE OCCUPANCY 41 euro/day, 285 euro/week, 455 euro/2 weeks, 580 euro/3 weeks (not available for longer periods)
Prices 15/4 to 30/11
Smaller Rooms:
SINGLE OCCUPANCY 31 euro/day, 210 euro/week, 330 euro/2 weeks, 420 euro/3 weeks, (1 month 500 euro – only available on request)
DOUBLE OCCUPANCY 39 euro/day, 260 euro/week, 410 euro/2 weeks, 525 euro/3 weeks, (1 month 625 euro – only available on request)
Bigger Rooms:
SINGLE OCCUPANCY 36 euro/day, 250 euro/week, 400 euro/2 weeks, 510 euro/3 weeks (not available for longer periods)
DOUBLE OCCUPANCY 45 euro/day, 315 euro/week, 500 euro/2 weeks, 635 euro/3 weeks (not available for longer periods)
 NOTE! We offer packages with accommodation and freediving courses and/or training, please let us know your needs and we will give you a tailor made quote.
HOTEL: For our events and packages we use Planet Oasis Hotel, but we are happy to take care of your hotel reservation even if you come at a different time than our combo weeks and training events:)
The hotel is situated right across the street from us and is facing the sea. It has an outdoor swimming pool and restaurant, where breakfast is served each morning-buffet style. Wifi reaches all the hotel area, including the rooms. All rooms have AC, private bathroom and the breakfast is included in the price. Rooms are designed in a simple arabic style and they all have either small private balcony or terrace.
The prices depends on the season and type of the room, we offer standard, superior and deluxe options, you can choose between single, double or triple beds.
Standard rooms- Garden view rooms on the ground and first floor, with a balcony or terrace, air-conditioning, fridge, safe and en-suite bathroom.
Superior rooms- Garden/pool view ground and first floor luxury rooms with a large terrace/balcony, new furtiture, bathroom, air-conditioning, TV, fridge, kettle, tea/coffee, safe and hair dryer.
Deluxe rooms- Side sea view first floor or ground floor luxury rooms, large terrace/balcony, bathroom, new furniture, air-conditioning, TV, fridge, kettle, tea/coffee, safe and hair dryer.
Please contact us for the price, tell us which type of rooms you are interested in and for what dates.